Recording your Voice in the Studio
1. Open Adobe Audition
2. Select Edit View.
3. Hit the Record Button (red circle button in the lower left)
4. Select 44500, 16 bit, Stereo.
5. Set your levels (Push the Mic pot up on the board, Turn down the speaker,
talk directly into the microphone **less that 1 inch away**). The level meter
on the screen should be in the orange.
6. Hit the delete button to delete the test.
7. Hit record and read your script.
8. If you like the take, save it.
9. Click File>Export>Audio
10. Type in a logical file name & make sure that mp3PRO is selected in the Save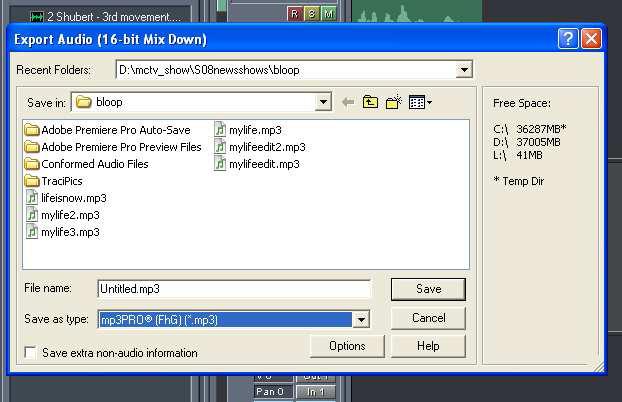 as type drop down.
11. Save it in that class's folder on the E: Drive.
12. Click Save.
13. If you don't like the take, hit the delete button and rerecord.
2
14. Back in the computer lab, copy the mp3 file(s) you created into your folder on
the lab computer. (Go to My Network Places… Click View Workgroup
Computers… Select the Audio Production computer… Go into the the class
folder… Click on your mp3 files… Click copy file… Paste them in your
folder on the lab computer.)